Network Video Recorders (NVRs)
Network video recorders (NVRs) are one of two local storage options for closed-circuit television (CCTV) security systems—the other being digital video recorders (DVRs). The main similarity between NVR and DVR devices is that they both have the ability to capture video, however, the two devices are different in terms of how they are installed, their compatibility with enterprise grade cameras, and how they process raw data.
Jump to each section to learn more:
• What is a Network Video Recorder (NVR)?
• How Do NVR Security Systems Work?
• Main Features of NVR Security Systems
• Benefits of NVR Camera Systems
• Challenges of NVR Camera Systems
• Alternatives to NVR Security Systems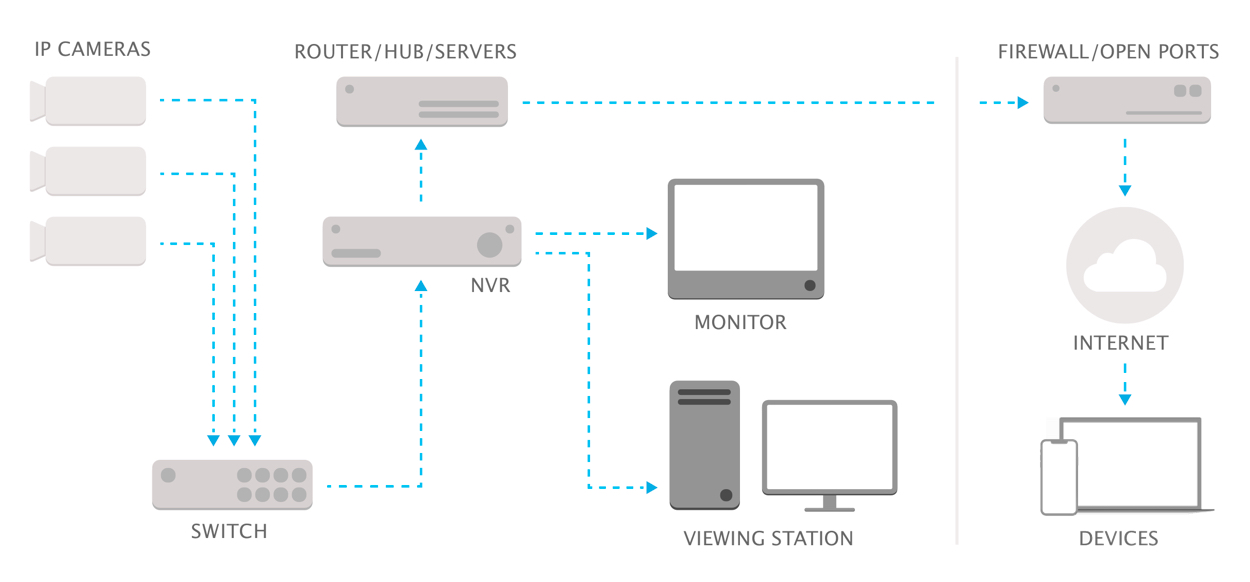 Network Video Recorder | What is an NVR?
NVR security camera systems are a popular choice for enterprise-level businesses that want around-the-clock remote and on-site surveillance that's scalable and flexible, without compromising quality. This is why an NVR is used to secure a variety of facilities, from financial institutions, retail stores, and restaurants to municipal buildings and factories.
How Do NVR Security Systems Work?
NVR security solutions allow surveillance footage to be broadcasted, recorded and stored both online and offline. Let's look at the main features to get a better sense of how these systems operate.
Main Features of NVR Security Systems
Integrates with IP Cameras: Unlike DVR systems, which are directly wired to analog cameras, NVRs work with internet protocol (IP) cameras that can send and receive information across a network, and record high-quality visual and audio footage. Read our guide on how to terminate network cables to connect an IP camera to your NVR.
Processes Video Data at the Camera: IP cameras are capable of encoding and processing video data, which means network video recorders don't require an encoder. Rather, processed footage is streamed to the NVR recorder for viewing and storing.
Provides Remote Access to Footage: Since NVR camera systems are usually connected to the internet, footage can be accessed remotely via mobile devices and desktop applications.
Wireless Connections: In an NVR system, each IP camera is connected individually to a single network which is configured, either wirelessly or via Cat5e and Cat6 ethernet cables.
Operates on a Closed Circuit: Just because NVR camera systems can connect to a network, doesn't mean they have to. If businesses aren't interested in having remote access to their IP cameras, these systems can operate like conventional CCTV solutions.
Benefits of NVR Camera Systems
High-Resolution Image Quality: Different models of IP cameras offer varying degrees of resolution; however, resolution isn't the only factor that determines the quality of the captured image. At a high-level, frame rates, lens type, and infrared night vision also impact the clarity of footage.

The image quality typically recorded by NVR systems are superior to that of analog DVR cameras, which record with lower resolutions and frame rates. It's worth noting that some DVR systems can now record at 4K resolution, but these come at a hefty price point.
Increased Flexibility: IP cameras, which rely on network video recorders (NVRs) to retain video footage, present businesses with more flexibility in terms of mounting locations. Depending on whether cameras are installed near or far from the local on-premise recorder, businesses can determine whether wired wireless installation makes more sense.
Advanced Features and Security: Many IP cameras have advanced features, such as facial recognition, motion detection and night vision capabilities. This technology can benefit many levels of enterprise business. When paired with cloud storage solutions, NVR security systems can also be configured with password protection, two-step verification and encryption to prevent unauthorized access.
Scalable Storage: The fact that NVR systems are cloud compatible means that storage is scalable by adding additional servers. This allows companies to operate security and surveillance systems 24⁄7 without needing to worry about running out of space.
Remote Access: Cloud storage means that, with the appropriate set up and permissions, business owners and surveillance staff can view footage remotely using their preferred devices—any time, any place, on demand.
Power Over Ethernet: In addition to providing an internet connection, Cat5e and Cat6 Ethernet cables can power IP cameras, which cuts down on the amount of wiring that these security systems need.
Challenges of NVR Camera Systems
Expensive Set Up: The cost of an NVR surveillance system far surpasses that of a DVR solution. Overhead costs for IP cameras, internet connections, operating software and cloud storage all need to be taken into account.
IP Compatibility: While the vast majority of IP cameras will work with an NVR system, it isn't a given. Business owners should always check to make sure that all of the equipment they buy will work with their selected storage system.
Possible Signal Loss: Although a wireless system offers many advantages, WiFi signal loss is something to bear in mind. When a connection drops, entire surveillance systems—including any in-progress recordings—will cut out, too. Some network video recorders, however, come with an internal Uninterruptible Power Supply (UPS) surge protector that will provide emergency power during an outage.
Internet Connection: To take advantage of an NVR security system's best capabilities, an internet connection is required. And unfortunately, this can increase overall costs, and limit where surveillance cameras can be installed. In remote locations where signals are hard to find, enterprises are better off using analog DVR systems.
Alternatives to NVR Security Systems
NVR security systems are a viable choice for many surveillance needs. However, as IP cameras become more sophisticated, recording higher resolutions and therefore creating larger amounts of data, businesses will need scalable storage—something cloud and hybrid cloud camera systems can provide.
Verkada specializes in offering enterprises of all kinds of hybrid camera software and hardware. To understand more about the solutions we offer, and for more information on security and surveillance technology, get in touch.