Digital Video Recorders (DVRs)
A digital video recorder (DVR) is a device that converts the signals from an analog camera into a viewable digital format that can be stored on a hard drive. It's one of two local storage options for closed-circuit television (CCTV) security systems—the second being network video recorders (NVRs). DVR and NVR devices are similar in that they both have the ability to capture video footage. However, the devices differ in how they are set up, which cameras they are compatible with, and how they process raw video data.
Jump to each section to learn more:
• What is a Digital Video Recorder (DVR)?
• How Do DVR Security Systems Work?
• Pros and Cons of DVR Security Systems
• Benefits of DVR Camera Systems
• Challenges of DVR Camera Systems
• Alternatives to DVR Security Systems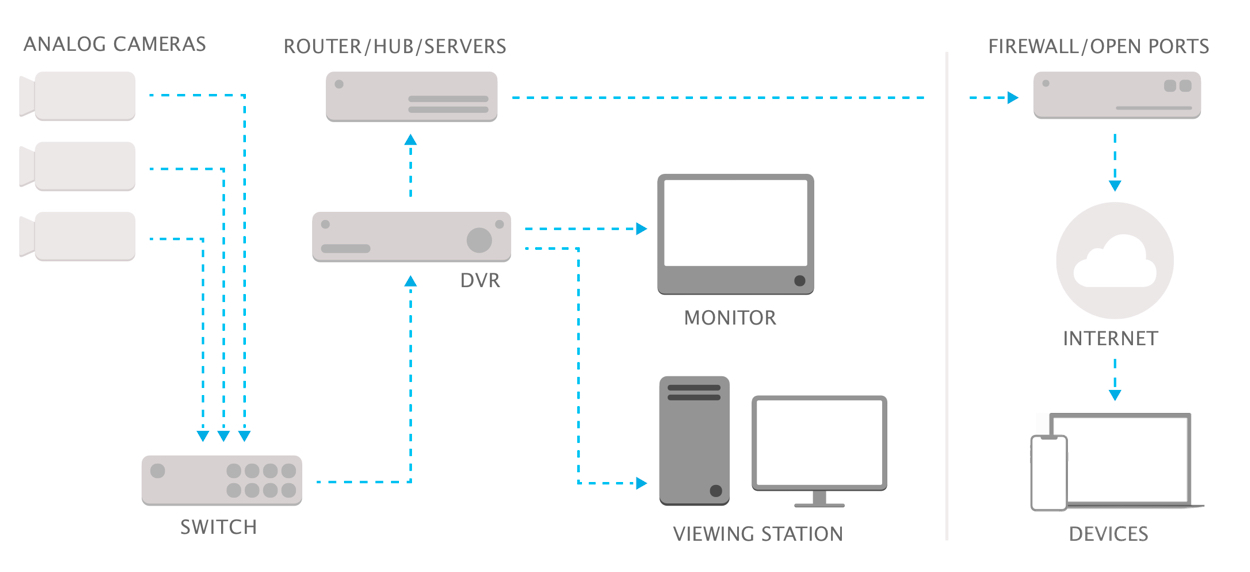 Digital Video Recorder | What is a DVR?
DVR camera systems are generally easy to install and use, making them an excellent solution for small businesses that require simple, on-premises surveillance and security. They enable property managers and business owners at a variety of facilities—retail stores, warehouses, construction sites, banks, offices, and residential buildings—to monitor personnel and assets, maintain on-site safety, ensure best practices, and safeguard their operations.
Today's enterprises need reliable security solutions; they need to know that hours of video surveillance footage can be securely recorded and saved, and they need to be able to access and view video files on demand. DVR camera systems have traditionally been considered a safe and reliable option, but have key considerations when it comes to ease of use, access, maintenance, and capacity.
How Do DVR Security Systems Work?
[Digital video recorders] (https://en.wikipedia.org/wiki/Digital_video_recorder) connect to analog cameras via coaxial cables and contain internal hard drives and encoding software; this means all footage is processed and stored locally. Let's look at the main features to get a better sense of how these systems work.
Connects Directly to Cameras: As DVR systems don't operate wirelessly, each camera must be connected individually to the device using cables.
Operates on a Closed Circuit: DVR camera systems aren't connected to a network in the same way that other modern surveillance systems are; they operate like conventional CCTV solutions.
Captures Analog Pictures: Digital video recorders are primarily intended to be used with analog cameras, though companies with existing systems can easily upgrade and replace this hardware with better quality versions as needed.
Processes Video Data at the Recorder: DVR systems use an encoder, which ensures the images captured by a camera are recorded and sent to an enterprise's chosen storage destination.
Stores Footage on a Hard Drive: DVR systems rely entirely on on-premises data storage, meaning they must be configured to a server or PC.
Pros and Cons of DVR Security Systems
Though DVR video surveillance seems outdated because—unlike other technological solutions—it doesn't require an internet connection, these security camera systems have still evolved throughout the years. And as with any technological device, DVR camera systems come with their own set of benefits and challenges.
Benefits of DVR Camera Systems
Cost-Effective Set Up: Compared to NVR, cloud, and hybrid cloud systems, DVRs are an affordable security solution for small businesses. Costs do vary depending on the number of cameras required and whether or not professional help is needed for installation, but there are initial savings due to the fact that DVR systems integrate with lower quality cameras.
Secure Connections: Since no internet connection is needed in order for analog DVR camera systems to work, they can be set up almost anywhere, including remote locations—provided there's a power source. This lack of network connectivity also helps to eliminate the risk of security systems being hacked, making for a secure surveillance solution.
Instant Access: DVR systems are hardwired—they connect directly to CCTV cameras. This means video is instantly stored on a hard drive and is easily accessible. So long as surveillance staff is onsite, they can watch footage as soon as it's been recorded.
Special Features: Though DVRs might not appear to be the most advanced security camera solution, they can be configured with a range of different features. Motion detection and time stamping capabilities, for example, means surveillance staff no longer has to work round-the-clock or sift through hours of footage to find a specific incident.
Challenges of DVR Camera Systems
Minimal Flexibility: Given that DVR systems need to be located close to a power source, businesses sometimes have limited options for installing them onsite. Because DVR security recorders do not make use of network connections, footage also has to be reviewed wherever the storage device is located.
Maintenance Fees: If a DVR malfunctions, it's a hardware issue—not a software issue—and can therefore be very expensive to fix or replace.
Clunky Wiring: Unlike NVR systems, which can be configured wirelessly, all security camera DVR solutions require coaxial cable connections. In addition to not supporting audio, these cables are large and therefore hard to install in tight spaces, and are unable to supply power (DVR systems transmit signals only). This means extra wires are always needed to ensure the cameras can operate.
Low Image Quality: Although DVR camera systems are cheaper than other security options, they output a much lower picture quality than hi-res cloud and hybrid cloud cameras. Business owners and surveillance teams will need to determine whether the cost savings are worth sacrificing picture clarity.
Storage Capacity: DVR camera systems cannot connect to the internet, via ethernet cables or wifi. And because of that, storage capacity is much lower than systems that can make use of cloud storage, like NVR camera systems do.
Alternatives to DVR Security Systems
DVR surveillance has its benefits, but as technology evolves, the need for greater storage capacity, big-data analysis, and faster and remote access to footage will only continue to increase. Verkada specializes in offering enterprises hybrid camera software and hardware. To understand more about the solutions we offer, and for more information on security and surveillance technology, get in touch.