By Dan Molenhouse, Solutions Engineer
The key distinction between fixed and varifocal lenses lies in their ability to modify the focal length, enabling optical zoom adjustments and dynamic alterations to the field of view. Fixed lenses, also referred to as "prime lenses", have a static focal length and are therefore optimized for a specific distance or scene. Varifocal lenses have adjustable focal length, allowing the field of view and optical zoom to change in order to cover a broader range of distances and scenes.
What is Focal Length?
Focal length is a primary characteristic that describes a lens. It is a physical measurement between the optical center (the point in the lens where light rays converge) and the focal plane on which the final image resolves, which is often the digital image sensor. This measurement, typically taken in millimeters (mm), describes the field of view and its ability to magnify distant objects.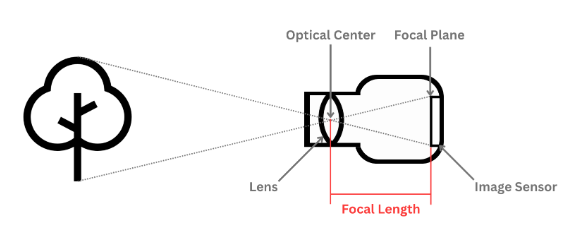 Lenses with a shorter focal length (lower number in mm) will be able to capture a wider scene and are typically referred to as wide-angle lenses. Longer focal lengths (a higher number in mm) are often referred to as telephoto lenses and will provide greater optical magnification and the ability to capture images from greater distances.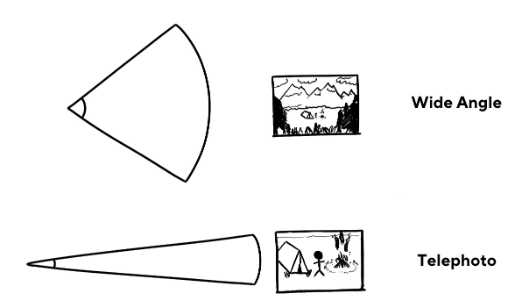 The size of the image sensor, or the size of the image that is being resolved is critical when comparing the focal length of two different lenses. If two lenses are resolving different-sized final images, their focal lengths cannot be directly compared. To facilitate these comparisons, the "35mm equivalent focal length" is often used as a standard reference and represents the field of view of the lens as though it were on a 35mm full-frame camera. For example, a 6mm telephoto lens on an average mobile phone camera might have a 35mm equivalent focal length of 52mm because of the significant difference in sensor size.
What is optical zoom?
Optical zoom is the ability of a varifocal lens to magnify a scene by physically moving elements of the lens to dynamically change focal length. Optical zooming allows the lens to resolve objects at further distances without any loss in image quality. This differs from digital zoom, where the image is cropped and enlarged, often resulting in a loss of image quality. Digital zoom is the only way for fixed lenses to achieve magnification beyond their normal field of view.
When should I use a fixed lens?
Without the ability to optically zoom, it may seem like there's no reason to go with fixed lens cameras. While it is true that they have less flexibility and versatility as varifocal lenses due to their inability to zoom into a scene, they do come with their own major benefits.
With fewer moving parts, they are simpler and require less maintenance or calibration. Additionally, the constant field of view allows for more consistency and fewer adjustments, especially when deploying cameras at scale. On the same note, fixed lenses are usually a more budget-friendly and cost-effective option, particularly in large-scale deployments.
Fixed lenses are perfect for situations where there is a fixed scene or stable viewing conditions, and the subjects of the image remain within a known area or distance. This is why fixed lens cameras are so prevalent with landscape photographers and in security camera installations.
When should I use a varifocal lens?
In situations where cost and complexity are less of a concern, varifocal lenses offer an added level of adjustability and versatility that can make them more useful in a wider range of situations. For this reason, one camera with a varifocal lens can potentially fill the role of multiple fixed lens cameras.
They are best suited for situations where the subjects of interest are likely to be at unpredictable distances from the camera. For this reason, varifocal lenses are often the lens of choice for portrait and wedding photographers or in surveillance systems covering a large area of interest.