Managing Indoor Air Quality with Smart Sensor Technology
Monitoring security goes beyond access control and video surveillance. Many commercial, industrial, and manufacturing enterprises must also keep an eye on the indoor air quality at their facilities. This is important not only to ensure the safety, wellbeing, and comfort of building occupants, employees, and visitors, but also to adhere to air quality standards and compliance requirements.
While measuring and monitoring air quality can be complicated, modern smart building solutions include integrated environmental sensors that capture air quality data over time. These sensors monitor the level of pollutants, particulate matter, and harmful organic compounds in the air. They can also be configured to trigger notifications and alerts when certain thresholds are exceeded.

How is Air Quality Measured?
At a high level, air quality is commonly measured using the air quality index (AQI). The AQI is the U.S. Environmental Protection Agency (EPA) measurement of air pollution for both outdoor and indoor spaces, running from a value of 0-500. AQI factors in the presence of five categories of pollutants:
Ground-level ozone
Particulate matter
Carbon monoxide
Sulfur dioxide
Nitrogen dioxide
Smart building air quality monitors can measure and report AQI for central monitoring, including the ability to set thresholds in case a particular room, floor, or building's air quality decreases to unacceptable levels. In this regard, AQI is a highly useful composite metric for evaluating air quality at regular intervals.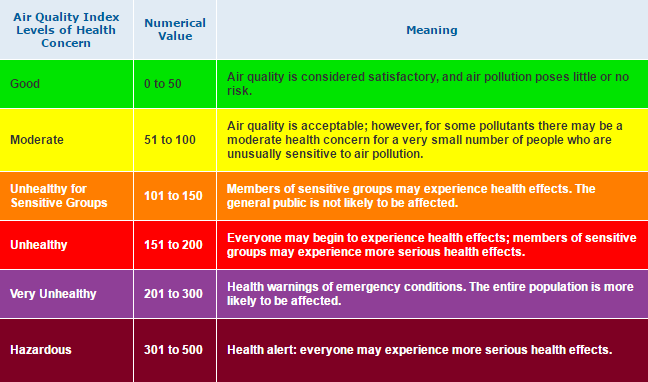 Common Indoor Air Quality (IAQ) Pollutants
Beyond AQI, the presence of indoor air quality (IAQ) pollutants should be of particular concern for businesses, enterprises, and other organizations inviting people in and out of their physical locations. According to the EPA, the concentration of certain pollutants is 2-5 times higher indoors than outdoors, meaning people, products, and even equipment could be at risk.
With people spending so much of their time indoors (up to 90%, by EPA estimates), IAQ pollutants can do significant harm. Near-term symptoms include irritation and dizziness. Long-term consequences can include respiratory disease, heart conditions, and cancer. As such, air quality sensors ought to also monitor common IAQ pollutants, namely Particulate Matter (PM) and Volatile Organic Compounds (VOCs).
What is Particulate Matter?
At any given time, there are particles of organic and inorganic matter, such as dust, pollen, or smoke, suspended in the air. These particles come from different sources and vary in size, but they are by and large harmful—or at least irritating—to people.
In terms of classification, particular matter is categorized by the size of the particles. There is PM10 (particles 10 microns and fewer) and PM2.5 (2.5 microns and fewer). Both of these particle types can be inhaled, each with its own common sources (either directly emitted or indirectly formed) and ensuing consequences to the body. Generally, PM2.5 is considered more hazardous to human beings.
Sources of Particulate Matter
The sources of hazardous particulate matter are many. Again, some are directly emitted, such as dust particles carried off by the wind, or indirectly formed from certain processes, such as chemical reactions resulting from combustion. Here are the most common sources of particulate matter worldwide:
Vehicle exhaust. Cars and trucks with internal combustion engines that run on fossil fuels are prevalent across the globe. Exhaust from these vehicles include particulate matter that can be harmful not only to the environment, but to people (carbon dioxide being the most notable). Vehicle exhaust is especially prevalent in urban areas, where traffic is highly concentrated and congested on a daily basis.
Coal burning. Although less prevalent than they once were, coal burning power plants are significant sources of particulate matter. The particulate matter resulting from coal burning is often referred to as soot, a substance that can be inhaled by humans, leading to breathing problems, asthma, upper respiratory conditions, and even death.
Wood heating. Still used in many countries to heat homes and other spaces, wood heating acn release carbon monoxide and other particulate matter byproducts directly into the indoor environment where, without ventilation, it is quickly inhaled.
Mining and construction. Coal mining, cement processing, and construction sites can release particulate matter directly from smokestacks, unpaved roads, and so on, or indirectly through the internal combustion machinery being used on-site. Particulate matter released in these environments can affect workers and people living nearby.
Industrial emissions. Secondary PM2.5 particles are often formed from chemical reactions that occur on industrial sites, including sulphur dioxide and nitrogen oxides.
Acceptable IAQ Particulate Matter Levels
The Occupational Safety and Health Administration (OSHA) sets forth guidelines around the acceptable IAQ particulate matter levels in specific environments and industries, such as schools or building operations and management. You will find particular recommendations and regulations set forth by state (the California Department of Public Health has its own guidelines, for example), federal (EPA), and international (World Health Organization) regulatory bodies.
Air quality sensors can be configured to ensure IAQ particulate matters remain within normal ranges as set forth by regulatory bodies. They can also be set to send automatic alerts when certain thresholds are exceeded so that people can be removed from harm's way while the issue is isolated and neutralized.
Particulate Matter (PM) Health Effects
The health effects of particulate matter will depend on the type of PM (2.5 vs. 10), length of exposure, pre-existing conditions, and other environmental factors. However, exposure to common organic chemicals has lead to a number of symptoms and conditions, including:
Irritation of the nose, eyes, ears, and throat
Disorientation
Dizziness
Nausea
Shortness of breath
Memory impairment or loss
Vomiting
Bloody nose
Fatigue
Some cancers
Liver, kidney, and nerve damage
What are Volatile Organic Compounds (VOCs)?
Volatile organic compounds (VOCs) are dangerous and damaging compounds emitted as gases from a wide variety of solids and liquids. Some common examples include: benzine, which is emitted from petroleum; formaldehyde, common in many fabrics, coatings, and building materials; and acetone, found in nail polish remover and wallpaper.
Here is the EPA definition of VOCs:
"Volatile organic compounds are compounds that have a high vapor pressure and low water solubility. Many VOCs are human-made chemicals that are used and produced in the manufacture of paints, pharmaceuticals, and refrigerants. VOCs typically are industrial solvents, such as trichloroethylene; fuel oxygenates, such as methyl tert-butyl ether (MTBE); or by-products produced by chlorination in water treatment, such as chloroform. VOCs are often components of petroleum fuels, hydraulic fluids, paint thinners, and dry cleaning agents. VOCs are common ground-water contaminants."
Common Sources of VOCs
VOCs can also be quite harmful to human beings, especially after longer exposure. Some studies have shown that several common VOCs are present in levels 2-5 times greater indoors than outdoors, and up to 1,000 times more present immediately after the chemical or material containing the VOC is used. Verkada sensors detect most common VOCs, including those released from the following sources:
Paints, paint strippers, and other solvents. These products are common in households, schools, construction sites, and businesses. Left unmonitored or in inappropriate spaces without ventilation, these products can release VOCs that severely impact AQI and the health of people nearby.
Cleansers and disinfectants. Industrial-grade cleansers and disinfectants, particularly, have been shown to release VOCs—especially when they are used together for a prolonged period of time. These include cleaning sprays and chlorine bleach, among others.
Aerosol sprays. When paint cures or dries, VOCs can be emitted. This is especially true of aerosol spray paints, coatings, and finishes.
Stored fuels and automotive products. Fuel containers or devices using gasoline, kerosene, or fuel oil can release BTEX (benzene, toluene, ethylbenzene, xylene), hexane, cyclohexane, and 1,2,4-trimethylbenzene—all considered VOCs.
Pesticides. Common pesticides, such as DDT, contain semi-volatile organic compounds that can be harmful to humans, especially when used at commercial scale.
Wood preservatives. Oil-based wood stains, in particular, are usually high-VOC formulas.
Acceptable VOC Levels
Refer to state or federal regulatory bodies, such as OSHA and the EPA, for guidance around acceptable VOC levels, as these ranges will vary depending on both the type of VOC, as well as the environment (home, industrial, business, and so on).
Generally, less than 0.3 mg/m3 is considered "low", while 0.3 to 0.5 mg/m3 is considered "acceptable."
Volatile Organic Compound (VOC) Health Effects
Similar to particulate matter, VOCs have a number of near and long-term health effects for human beings, including:
Eye, nose, ear, and throat irritation
Upper respiratory issues and diseases
Nausea and Vomiting
More acute conditions, including lung cancer and heart disease
Industries that Benefit from Air Quality Monitoring
Indoor air quality sensors are used in a variety of industries to detect air temperature, AQI, and the presence of PM. Benefits include keeping employees and business assets safe, complying with local, state, and federal regulations, and limiting product damage or loss. Here are some of the industries where air quality sensors have been deployed:
Manufacturing & Production. To protect the health of workers and maintain product control, manufacturing and production facilities must continuously measure air quality across all facilities and locations.
Food Processing. Air quality control measures can help minimize odors, vapors, steam, noxious fumes, and other air matter that might contaminate food and food packaging materials, or adversely affect machinery and staff.
Oil and Gas. While we're familiar with the outdoor emissions that oil and gas companies create, indoor air quality is essential to maintaining employee safety, avoiding leaks of combustible materials, and minimizing accidents.
Healthcare. Healthcare facilities include a variety of sensitive spaces, including storage rooms, operating rooms, intensive care units, and testing facilities, all of which require adherence to precise air quality standards.
Commercial business. Today, certain buildings have certification requirements around air quality monitoring, including, for example, carbon dioxide levels and particulate matter. The ability to centrally monitor air quality, while drilling down to locations and spaces that aren't meeting set thresholds, is a key benefit of air quality sensors within the commercial space.
Restaurants. Maintaining a safe work environment for restaurant guests and staff, while monitoring inventory to avoid spoilage or contamination, is an essential benefit of air quality monitoring in the restaurant business.
Hospitality and Hotels. Beyond keeping high volumes of guests and staff safe, hotel and hospitality groups entail vast operations including food handling, cleaning, and maintenance. Air quality control is essential to keeping people and assets safe from contamination, exposure to harmful chemicals, or physical damage.
FAQs About Air Quality Monitoring
What's the difference between VOC and TVOC?
Volatile organic compounds (VOCs) are chemicals that evaporate into the air and are emitted by cleaners, paints, varnishes, fragrances, and hundreds of other products. VOCs are measured as a group because of their cumulative effects, with high TVOC (total volatile organic compound) values associated with negative health impacts. Within the Verkada air quality monitoring system, color-coded TVOC ranges are aligned to healthy indoor air guidelines set by government and industry standards. TVOC measurements outside of the green zone may require attention if unexpected or outside of the normal range for this sensor location.
What's the difference between PM2.5 and PM10?
PM10 particles have a diameter of 10 micrometers or less, and are small enough to be inhaled and enter the lungs. PM2.5 particles are even tinier (a diameter of 2.5 micrometers or less), so small they can get deep into the lining of the lungs and even the bloodstream.
What are some ways to improve indoor air quality (IAQ)?
Most major environmental and occupational bodies, such as the EPA, OSHA, and the Centers for Disease Control and Prevention (CDC), recommend three high-level approaches to improving air quality:
Source control, or minimizing the presence of materials that emit pollutants.
Ventilation, including natural means or HVAC systems.
Cleaning and filtration, which can remove harmful particles from the air.
Moving Towards an Integrated IAQ Monitoring System
Ar quality monitoring can add an extra layer of protection, product control, and compliance or a variety of industries. Look for solutions whose sensors can be used in conjunction with existing door access systems and video surveillance. Integrated systems with centralized, cloud-enabled management dashboards allow admins to monitor security and air quality remotely and quickly respond to incidents and alerts.