Terminating Ethernet Cables
CAT5/CAT6 Ethernet cables are commonly used for connecting your security hardware to a network device, and understanding how to properly terminate Ethernet cables is a crucial step for ensuring a proper connection without distortion or signal loss.
Termination involves attaching connectors to the cable ends, allowing them to be plugged into network devices like switches, routers, cameras, or computers. This physical connection is essential for data transfer between devices.
Terminating cables also allows you to create custom cable lengths tailored to your network requirements. This eliminates excess cable clutter and ensures efficient cable management.
Whether you're installing a new network or maintaining an existing one, proper termination practices are crucial for reliable and high-performance connectivity.
Jump to each section to learn more
• Types of Ethernet Cables and Applications
• Tools Needed To Terminate a Cat5/Cat6 Cable
• Steps to Follow to Terminate Ethernet Cables
Types of Network Cables
Although we will be focusing on terminating Ethernet cables, it is important to understand all types of cables you may encounter. There are three types of network cables:
Coaxial Cable: Coaxial cables, or "coax" cables, are a versatile transmission medium used in a wide range of applications including cable television, telephone transmission, and local area network. Coax cable has a center conductor which is made of copper, and it is insulated from the braided metal mesh. Coax cable is most commonly used in older analog camera systems.
Fiber Optic Cable: Fiber optic cable is a type of cable that carries information in the form of light pulses. Fiber lines can transmit data over longer distances, at higher speeds, than any other network cable. Fiber optic cables are commonly used to connect sites.
Twisted Pair Cable: A twisted pair cable is the most common network cable found in networking infrastructure today. They are often called "Ethernet cables" because of how common they're used in infrastructure. Twisted pair cables plug into using RJ45 connectors, which in turn connect to any network-enabled device such as switches, routers, and NVRs.
Types of Ethernet Cables and Applications
Unshielded Twisted Pair (UTP)
UTP cables are indoor-rated Ethernet cables designed to handle all LAN applications. The cable can be installed through ceilings or walls.
UTP cables are the cheaper option, but due to the lack of additional protective shielding, they have an increased chance of experiencing electromagnetic interference (EMI).
Shielded Twisted Pair (STP)
STP cables have foil wiring protecting the twisted pairs, as well as a thicker outer jacket that serves as protection against interference.
They are more expensive, however, these cables are more suitable for environments near electrical interference such as high power conduits or elevators.
You can learn more about STP and UTP cables in our STP vs UTP guide.
Categories of Ethernet Cables & Data Rate Differences
Ethernet cables are grouped into categories that determine their bandwidth capabilities and maximum supported data speed. Here is an overview of the ethernet cable categories commonly used for connecting security cameras to network devices and PoE switches. Note that all cables have a max distance of 100 m (328 ft):
CAT5e/CAT6: Max data rate of 1 Gbps
CAT6a: Max data rate of 10 Gbps
---
Tools Needed To Terminate a Cat5/Cat6 Cable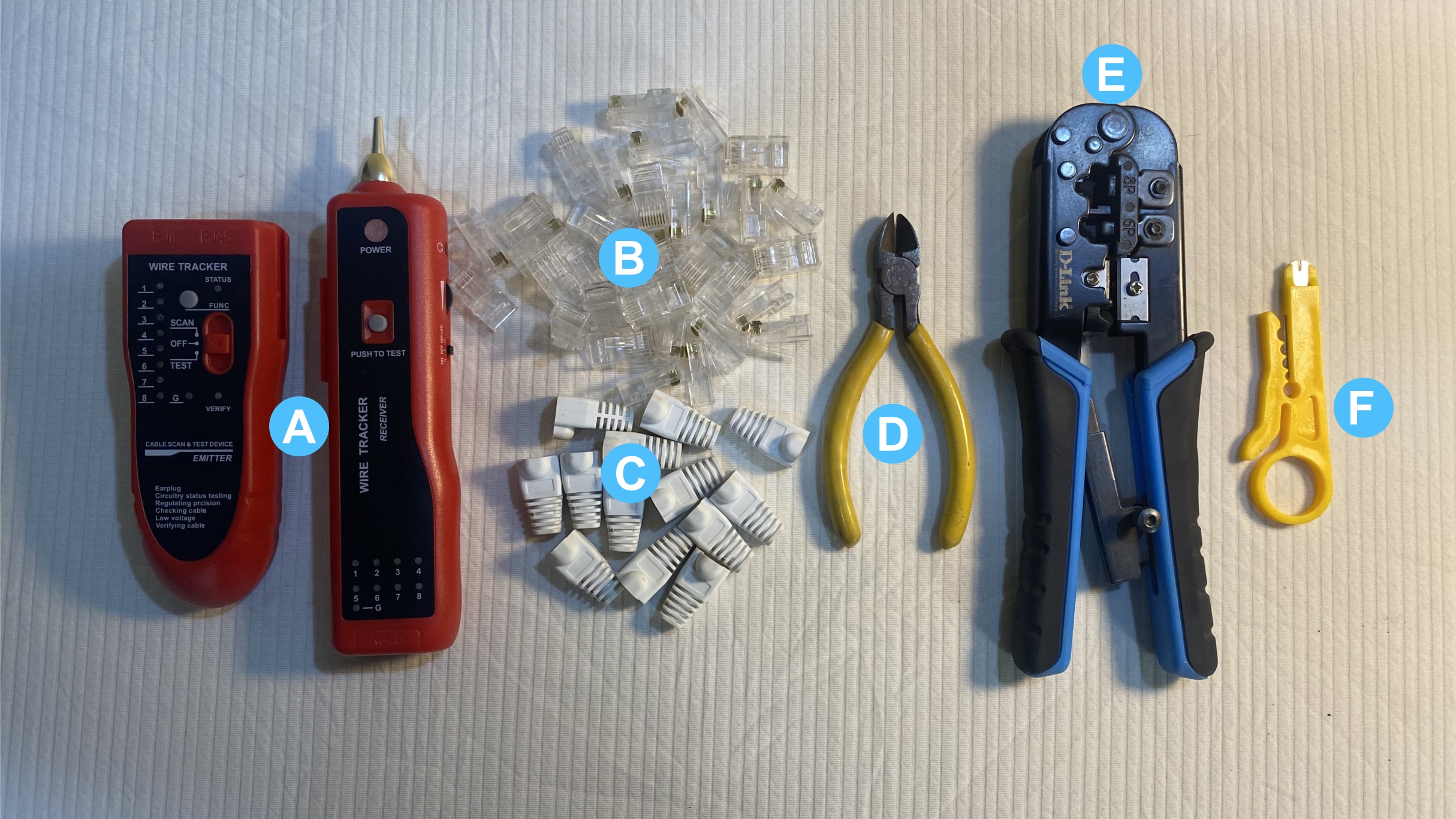 A) Cable tester: An electronic device that checks for continuity in an Ethernet cable. It is an essential tool that can be used to troubleshoot and fix a faulty cable. Not only will the cable tester tell you if a cable is wired incorrectly, it will also indicate what you need to do to fix it.
B) RJ45 Connector: RJ45 modular connectors with 8-pin jacks that make a close connection with both ends of the Ethernet cable. The RJ45 connector is used almost universally on twisted pair cables, and is thus the most common type you'll find in the wild.
C) RJ45 Connector Boot: The connector boot provides strain relief and prevents cable fraying.
D) Side Cutter or Electrical Scissors: The cutting blade on the crimping tool is not always reliable. Getting yourself a side cutter or electrical scissors to trim your Ethernet cable will come in handy.
E) RJ45 Crimping Tool: The tool used to crimp the RJ45 modular connector onto the cable.
F) Mini-Cable Stripper: This mini tool will make sure your Ethernet cable is carefully stripped without cutting through the twisted wires.
Steps to Follow to Terminate Ethernet Cables
Before we dive into the termination process, it is important to note that there are two standard color codes used in wiring RJ45 eight-position modular connectors, namely TIA/EIA 568A and TIA/EIA 568B.
The only physical difference between the T568A and T568B wiring is that the positions of the orange and green pairs in the wire configuration are interchanged.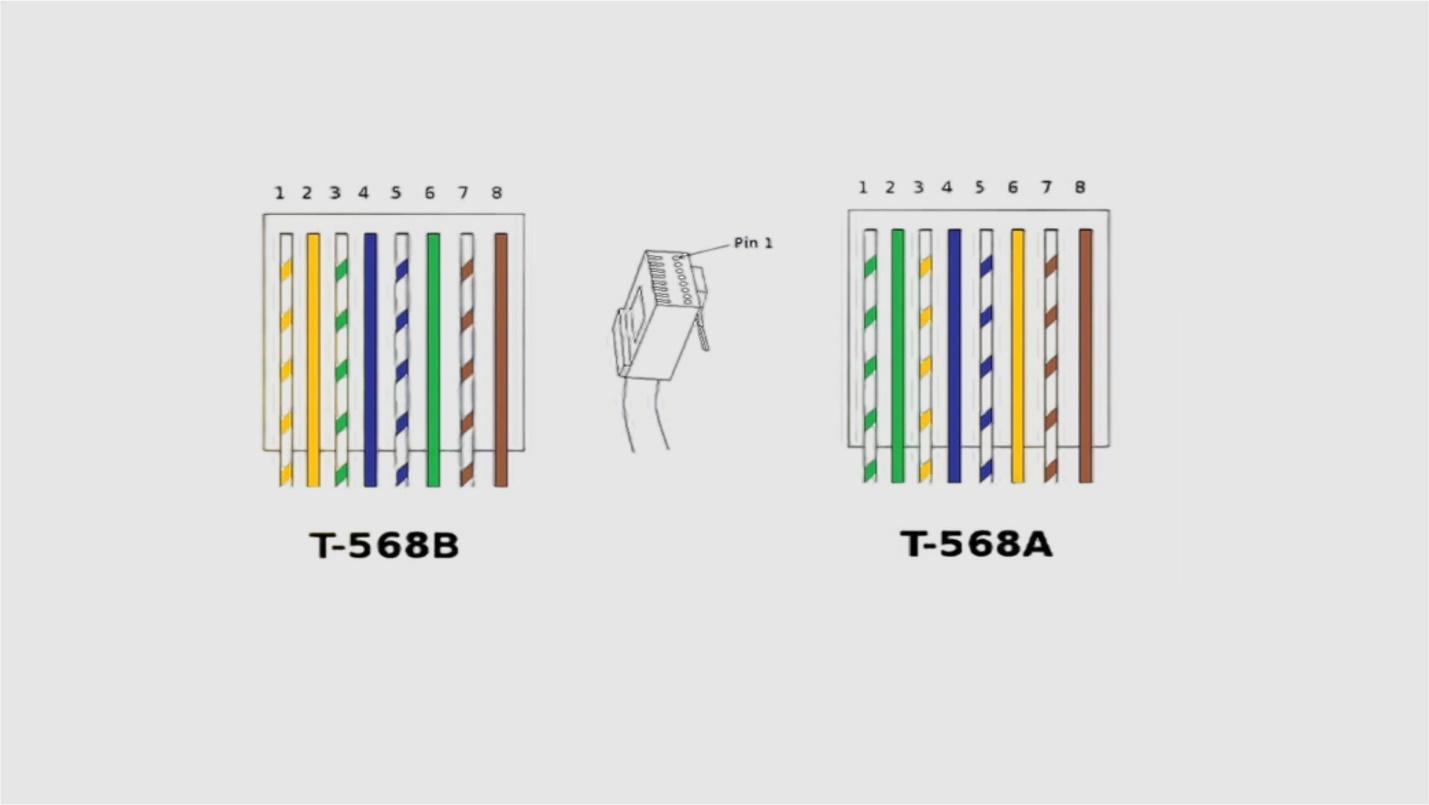 Both T568A and T568B are straight-through, and should not be used interchangeably. We will be using T568B in this article because it is the most widely used wiring schematic, and it is popular among networking professionals. You will rarely have to work with a T568A connector.
Step 1
We will assume that you are starting off your cable termination at the security camera location and that you know the cable length needed.
First, slide the connector boot onto your cable and push it down so you can still handle the end of the cable without it being a distraction.
Use a ruler to measure 5cm on the LAN cable. Then use the first hole on your mini-cable stripper to gently peel off the outer PVC jacket.
Carefully separate and cut off the spline and ripcord without damaging the twisted wires.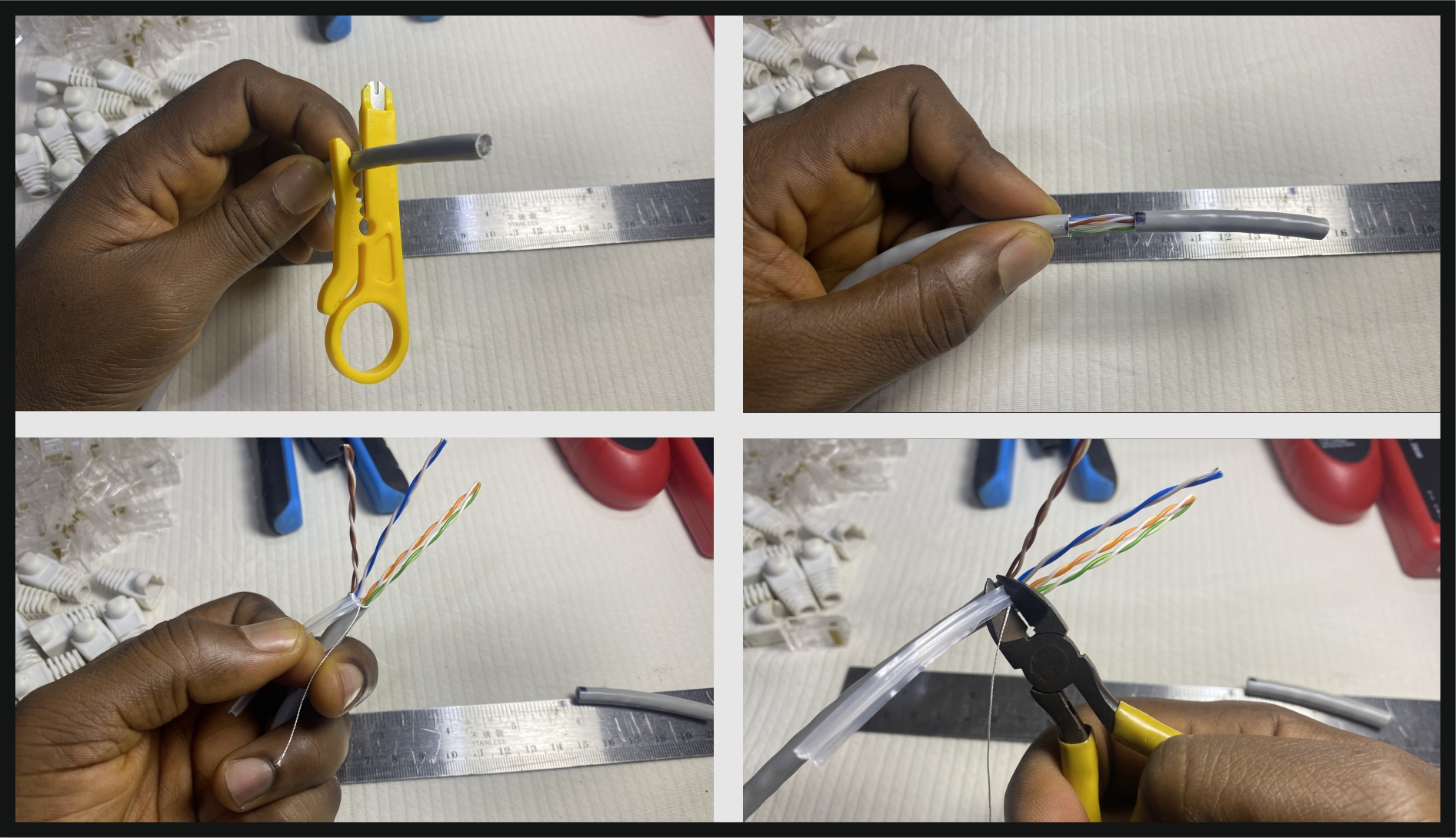 Step 2
Untwist the pairs and straighten them by holding each wire with your thumb and index finger.
Arrange the wires by using T568B color code: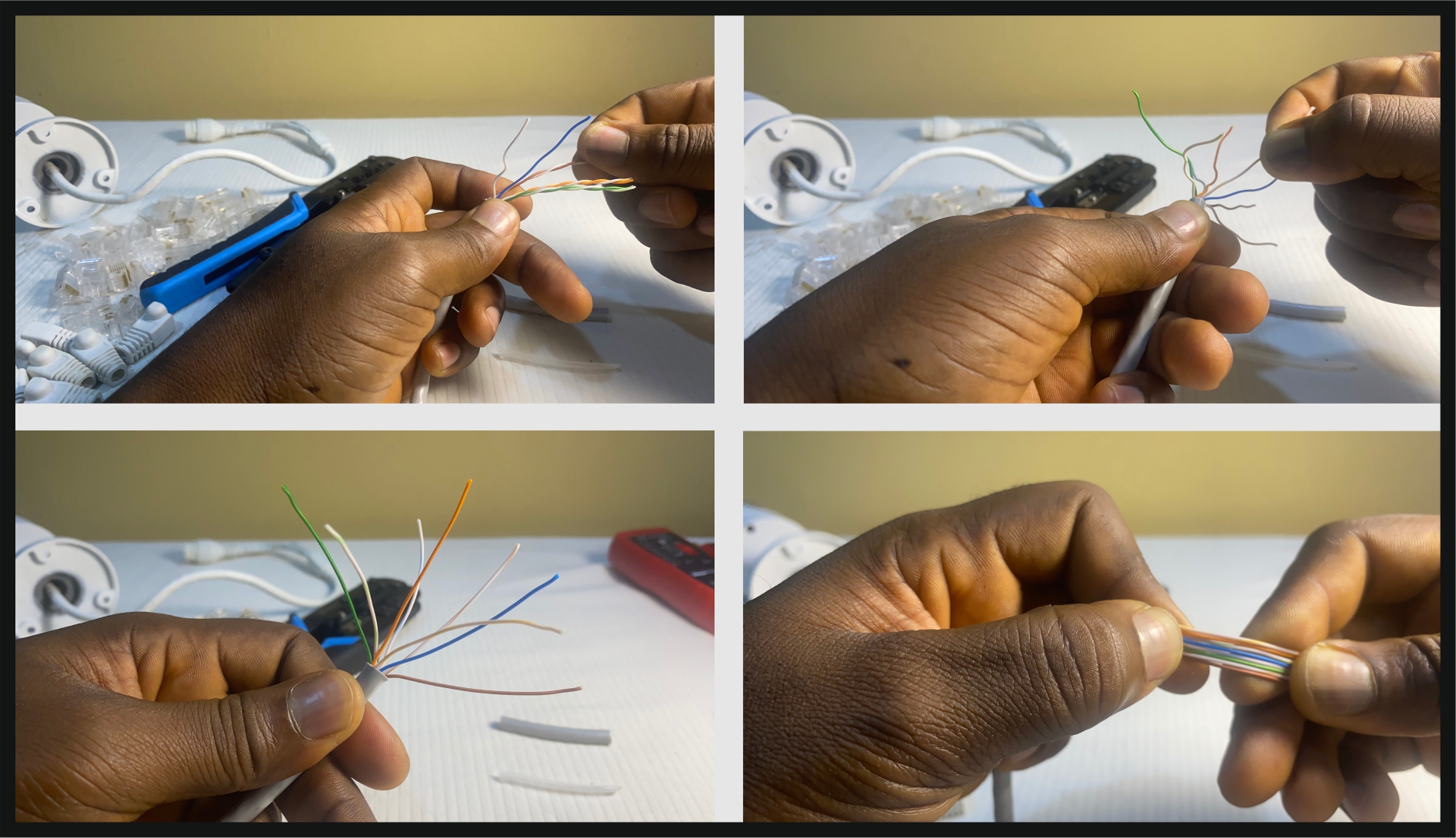 Use your side cutter or electrical scissors to reduce the length of the wires if they are too long, and make sure they all have equal length: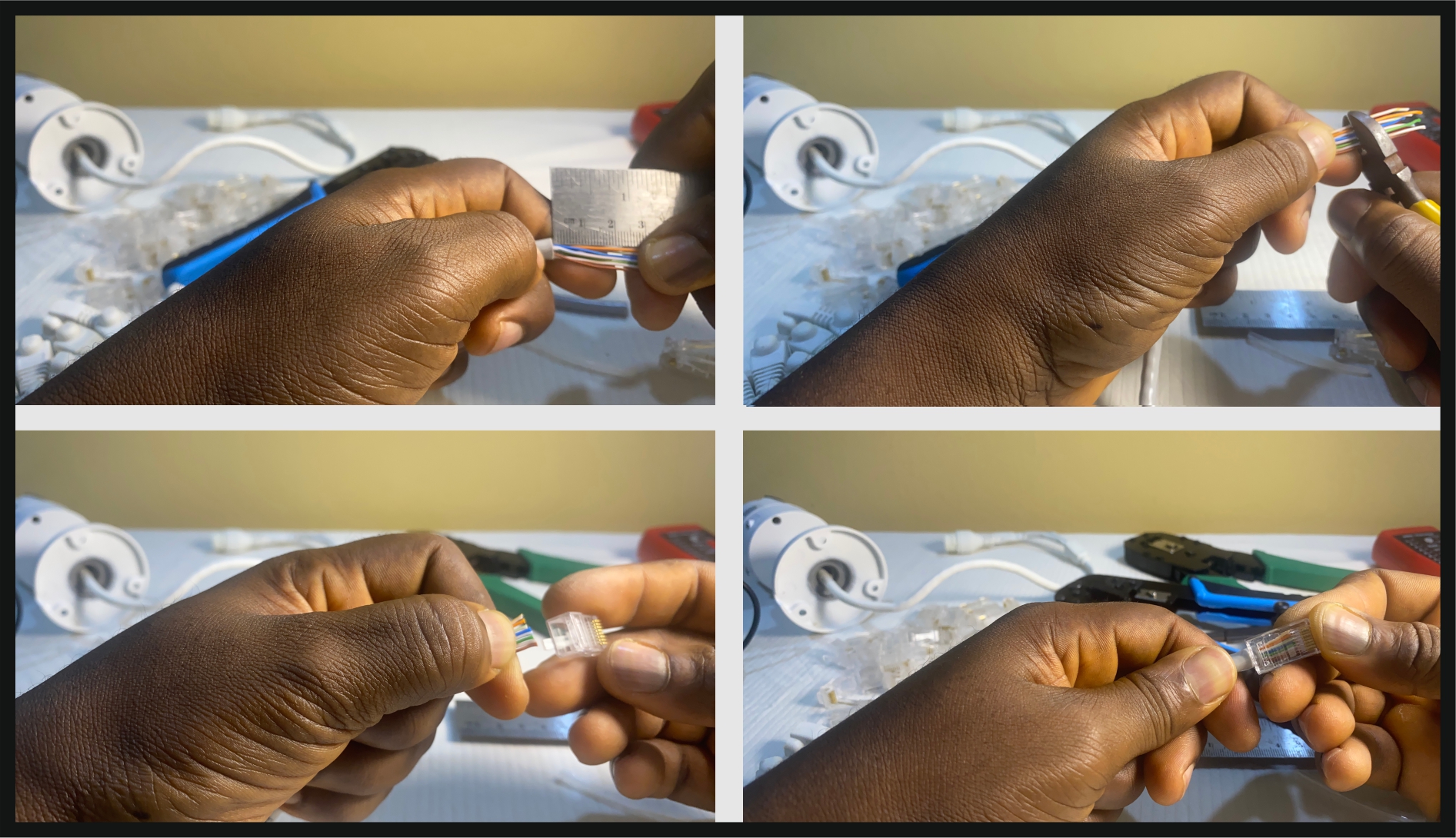 Insert and push the wires into the RJ45 modular connector, making sure the connector locking clip is facing down, and away from you.
Verify that all the wires are firm, and crimp with your RJ45 crimping tool by squeezing hard:
Step 3
At the other end of the cable, insert the RJ45 connector boot and repeat the above steps: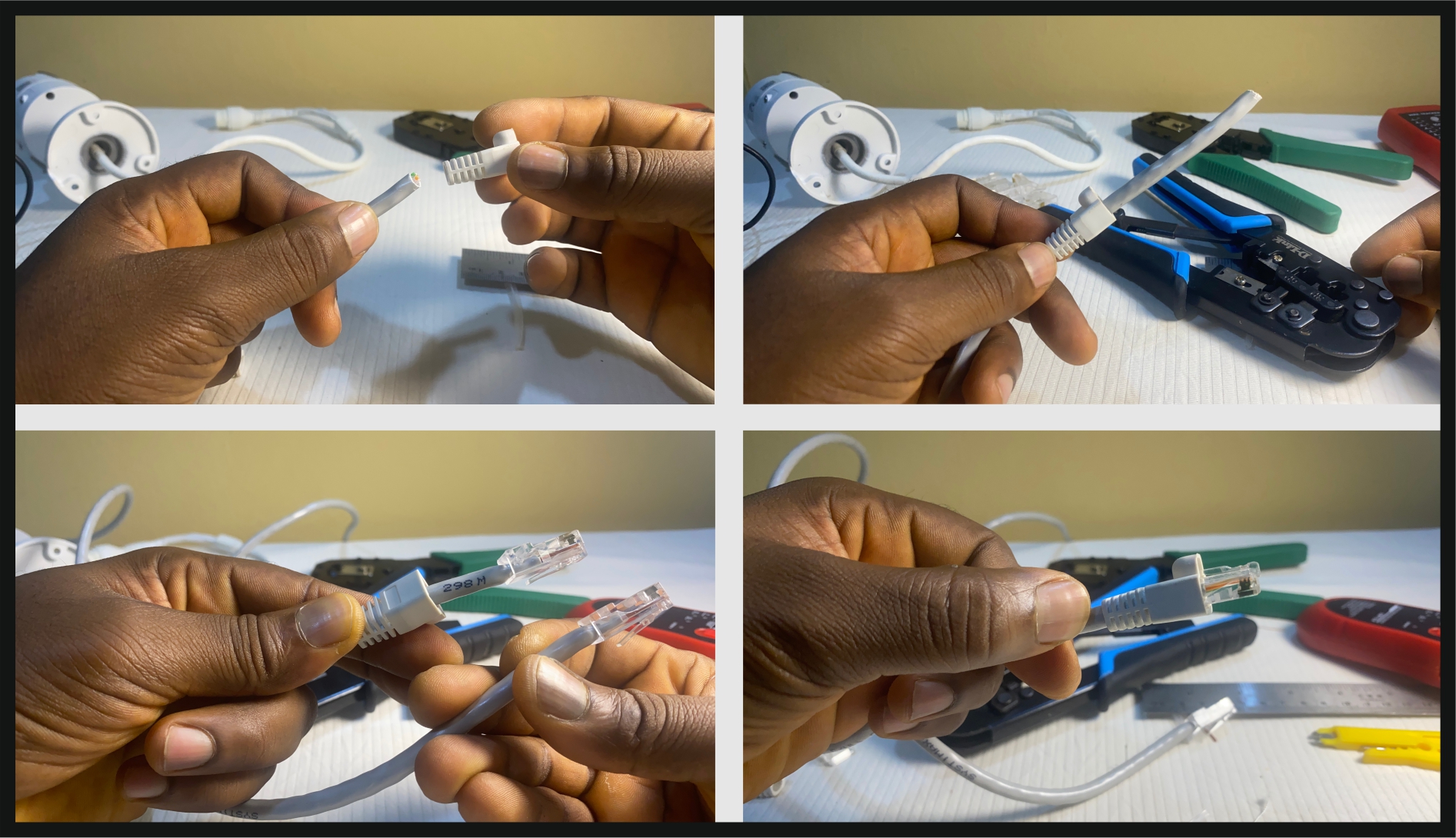 Step 4
Finally, slide the boot onto the modular connector and use the LAN cable tester to test the Ethernet cable for continuity. Insert one end of the cable to the transmitter and the other to the receiver. The LED indicators should light up from 1 to 8: