By Derek Gunny, Solutions Engineer
Overview of External Infrared Illuminators
External IR illuminators can improve video quality in dark environments by introducing infrared (IR) light. IR-enabled cameras capitalize on IR light to produce detailed images in the absence of visible light, and IR illuminators can enhance visibility across wide areas. In security camera applications, IR illuminators exist as standalone hardware and may also be built into cameras.
Background
A digital camera uses an image sensor to capture information about the reflected light from an environment in an effort to generate an image. An image sensor consists of arrays of light-reactive electronic components, and the electrical output of these components relays information that ultimately comprises a pixel. For color images, the image sensor is tuned to differentiate wavelengths of visible light. Several different camera technologies exist that support image and video in low-light or night conditions.
In order to produce informative images in both adequate lighting and low lighting, many cameras employ an infrared-reactive technology along with an infrared cut filter. Infrared light refers to a band of electromagnetic radiation which operates at greater wavelengths than visible light. The wavelengths of light in the IR band are invisible to the human eye.
An IR cut filter is typically a piece of specialized glass that prevents incoming IR light from passing through to the other side of the glass. In videography, this effect is especially valuable as it can prevent IR light from skewing the image sensor for an image that should be composed of just visible, RGB light. On the other hand, in low-light environments the absence of this filter allows IR light to be interpreted by the image sensor to generate gray-scale images like the one below:

Cameras can control whether or not this filter sits in front of the image sensor which enables the same camera to deliver useful images in both adequate light and low light.
Why Use IR Illuminators
There is no guarantee that a given low-light environment has abundant IR illumination to produce an informative image. For this reason, hardware called IR illuminators are often deployed in tandem with cameras to act as sources of IR illumination. IR illuminators allow the environment to sufficiently reflect IR light to the camera which then can distinguish objects in the environment more clearly.
Some cameras may have this technology built-in, usually as IR LEDs, but there also exist many stand-alone IR illuminators on the market. These external IR illuminators can help IR-enabled cameras maintain visibility across wide areas and far distances at night. Unlike traditional flood lights, IR illuminators enhance low-light camera performance while leaving the surveilled area imperceptibly illuminated.
Considerations When Using IR Illuminators
An important consideration for IR cameras is preventing the reflection of high-intensity IR light to the camera lens. Direct IR light can yield unwanted lens flare in the image, like that in the image below: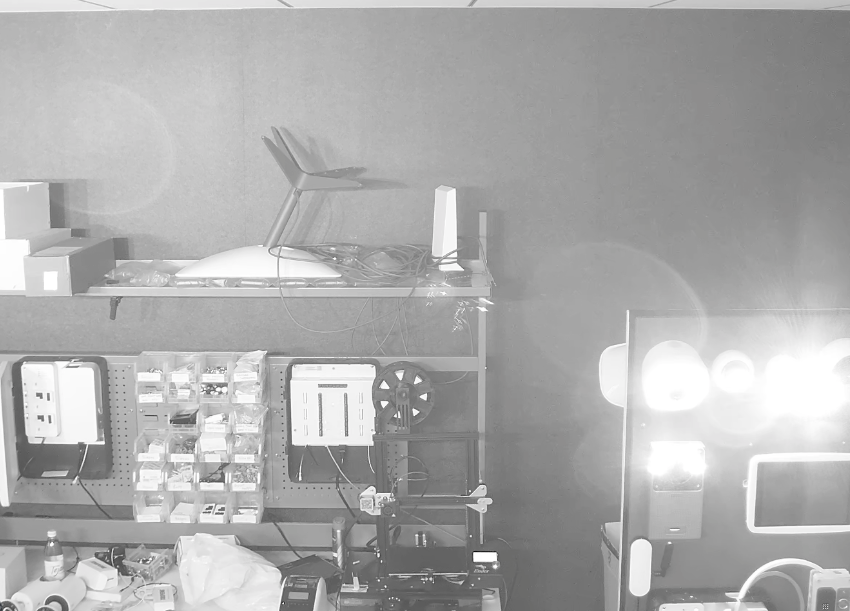 There are various means by which high-intensity IR light can negatively impact camera performance. A common one emerges when external IR illuminators are aimed in the line of sight of a camera. To avoid this, IR illuminators should propagate IR light to a camera's field of view without pointing at the camera.
IR issues also arise from the reflection of IR light against certain reflective surface materials, such as metals. If a camera cannot be positioned away from such obstacles (i.e. beneath eaves) built-in IR illuminators may negatively impact low-light images. In these circumstances, external illuminators placed elsewhere may be an effective solution for low-light conditions.
When designing a camera installation with external IR illuminators an important consideration is compatibility. IR-enabled cameras are often rated for certain wavelengths of IR light so it is important to pair IR cameras with external illuminators that elicit appropriate wavelengths. Other important IR illuminator ratings to consider are illumination distance and illuminated field of view.